Sub Categories For Promotional Items
Promotional Items and Gifts
Giftwrap is South Africa's leading supplier and wholesaler of quality promotional items and gifts.We offer a wide range of branded promotional items that will suite your pocket and expectation. For the best in promotional items and gifts in South Africa and Africa,call on Giftwrap. We deliver nationwide to your doorstep. We offer bulk order discounts - enquire online or through our call center. Our promotional items can be silk screened, pad printed, engraved, embroidered depending on the product. 
Browse our collection of promotional gifts with confidence
Products for Promotional Items
Please browse through the Promotional Items below. If you are interested in a Promotional Item click the 'Request Quotation' link next to each Promotional Item product. A customer service consultant will contact you with a quote. Price estimate excludes branding, VAT and volume discounts apply.
Keychain and Business Card Case Set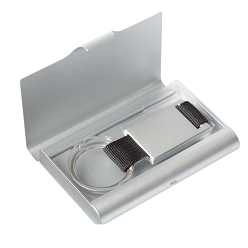 Minimum Quantity
Turnaround Time
Customisations
Colours Available
R 37.98
each*
Keychain and Business Card Case Set; Clip Closure; Zinc Alloy Casing; Material on Keychain; Zinc Alloy Body; Split Ring
GiftWrap: We have the promotional products that never go out of style
Any company that is looking to make a massive impact on their market
should be using promotional products
. GiftWrap has spent many years providing the best quality promotional gifts, helping companies in numerous industries make a memorable impression on their client base and improve their sales.
Personalized promotional gifts
have the power to make an impact that no other style of marketing can do and each of the gifts that we have at GiftWrap holds that power.
Branded corporate gifts are the biggest tool in your marketing strategy and there is hardly ever a time when promotional gifts are not suitable to be given. Great for all the recognized holidays, personalized promotional gifts are equally fantastic for everyday expressions of gratitude to your clients.
Branded corporate gifts
have the power to build up your client base, with the gifts being able to create stable relationships with each client. The key to success in any business is trust, and that is something that you are guaranteed to build when you are giving the right kind of gift.
The 3 secrets to promotional product success
Every company successfully using promotional products knows that there are just three secrets to turning a promotional product from just a gimmick to a marketing tool. We have seen our clients use these 3 secrets to great success:
Firstly: Make it memorable
It is easy to give just any gift to your clients, but this is not necessarily going to make the impact you are looking for. You need to give something that is unusual, something that is not common. And
GiftWrap
has just the selection of gifts to fit this criterion. The other way that you can make a gift memorable is to brand it.
A branded promotional product is memorable
simply because the branding is unique to that product.
You want to choose promotional products that actually have a use. With the right branding, the person will be reminded of your company each time that they use the product. Useful products become memorable products when used continually and research has shown that the longer a product is kept, the more of a marketing effect it is going to have. We have a wide selection of useful gifts.
<
Thirdly: Make it a talking point
To finish off the powerful combination of these three secrets, make sure that when you give the gift you talk to your clients. Opening up a conversation is a big part of promoting your brand and branded corporate gifts are wonderful conversation starters.
And to give you an extra tip, we advise you to select gifts that are relevant to your business or industry. GiftWrap stocks some of the most interesting gifts.
From boomerangs to all of the latest small electronics, GiftWrap's collection is massive. We also offer our clients the option of having the promotional gifts branded with their company details.
The power of a branded corporate gift
Branded corporate gifts
can take on many shapes. Branding can be printed onto gifts such as pens, water bottles, and flash drives and they can also be embroidered onto t-shirts, caps, jackets and scarves. Regardless of the style of branding that you choose, the branding will have a certain power.
Companies all over the world have enjoyed great success with branded promotional gifts. And the branding that you place on your gifts can be customized in the way that you want it. Branding with a company name, logo and contact details reminds the person of your company each time that they use the gift. We can do the branding for you, personalizing your products so that you receive the products ready to start your campaign.
Did you know that up to 52% of people who receive branded promotional items will think positively about the company that gave it?
GiftWrap is South Africa's trusted
promotional items supplier.
As a wholesaler, we offer affordable corporate gifts which are perfect to shake up your marketing strategy. Use our gifts at events, to improve your PR, or give them away directly to your customers or even to your staff. Our professional team can assist you when selecting gifts to ensure that you get the most out of each product and once you have made your selection, we will personalize it!
Contact us today to find the best promotional items and start benefitting from a fun and innovative approach to marketing!