Products for Solar Chargers
The industry of solar power is expanding rapidly. This is has led to high prices of solar chargers. Giftwrap is proud to offer you economical pricing for smaller solar charger items that are usually in short supply. Giftwrap offers two chargers, Nab solar charger is safe as it comes with ABS silicone cover. It is over discharge and short circuit protected. It has micro USB port and mini USB ports for tablets and smartphones. It is capable of charging two devices simultaneously. It is easily portable and light weight. It is safe to use. Giftwrap has given the facility to customize the charger according to your preference. Charger is available in 2 colours. The other charger is a solar charger that has the built-in 500mAh output capacity lithium polymer battery equipped with a compact solar panel. It allows recharging the battery itself under sunlight for emergency purpose while outdoor. The solar charger has USB outputs. The charging time is 8.5 hours. Solar charger can be modified using the engraving method. It is easy to use. The next time you need to charge your laptops or mobile, you donít need to look for a wall outlet. You just need the solar chargers by Giftwrap.
Nab Solar Charger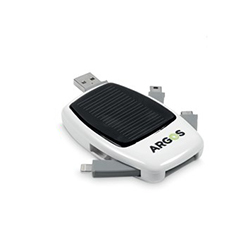 Minimum Quantity
Turnaround Time
Customisations
Colours Available
Pad Printing
White / Black
each*
ABS with silicone case; lithium polymer battery; safety: over charge; over discharge & short circuit protection; with iPhone 4; iPhone 5; micro USB & mini USB connectors; USB input; registered design;....
8 (l) x 5.3 (w) x 1.7 (h)
Solar charger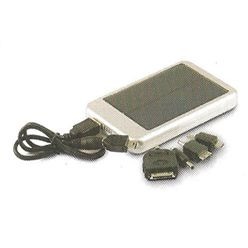 Minimum Quantity
Turnaround Time
Customisations
Colours Available
each*
500mAh output capacity; USB output; charging time 8.5 hours