Products for Leather Clip Boards
Leather clip boards are used for a range of purposes so whether you want to place it in your home or office, leather clip boards are a great choice. If you are someone who is looking for a nice leather clip board, look no further as Giftwrap has a good one to offer. Giftwrap offers the Monte Carlo Leather Clip board, which is great for carrying documents without any worry whatsoever. You can use the clip board as a perfect sized holdup to A4 sheets as well. The clip boards come with a pen loop and an internal pocket as well so you can easily place them whenever you like and you won't be disappointed with the results. For anyone who wants to place leather clip boards, the choice at Giftwrap is great. You can even choose to get embossing done on your clipboards and make them stand out naturally. In addition, the clipboard is available in a uniform black color so they will pretty much go with any or every document or file, the choice is invariably and untimely yours. Get the clipboard at Giftwrap and file and stack your files and documents right.
Monte Carlo leather clip board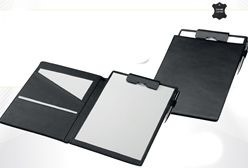 Minimum Quantity
Turnaround Time
Customisations
Colours Available
each*
Perfect for confidently carrying documents without a worry, this Monte Carlo leather clip board is perfect to hold up to A4 size sheets. Includes pen loop and internal pocket.