Products for Kiddies Sweaters
Winter season is here and the demand for sweaters and hoodies have risen. If you are looking to buy sweaters for your little ones, you have landed at the right place. Kiddies sweaters at the Giftwrap are the best one that you can get from anywhere. Available in green and gold color, the sweater comes with ribbed Collar, cuffs, and hem. You can get this sweater for your kids between ages 3 to 14 and give them the required warmth and protection. Kids wear sweaters all the time and with winter being just around the corner, try the kiddies sweater collection at Giftwrap. Giftwrap offers a ribbed collar sweater with cuffs and a hem. This is a unique sweater that has embroidery done on the left chest and the back neck. You can choose to get this sweater for your kid and know that he will love it given how good it is in every way. The best part is that the sweater is available in two contrasts; green and gold. For anyone who has been looking for a sweater for their kids, the collection at Giftwrap is a must try.
SA Rugby Sweater - Kids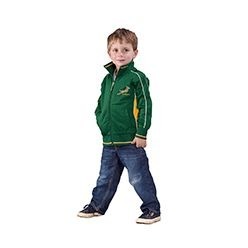 Minimum Quantity
Turnaround Time
Customisations
Colours Available
each*
Ribbed Collar, cuffs and hem with contrast inner neck rib, SA Rugby branded back neck tape, SA Rugby branded embroidery on left chest and back neck, contrast side panel with piping detail, front inset....