Products for Entry/Voting Boxes
Whatever the mind of man can conceive and believe, it can achieve. Thoughts are things! And powerful things at that, when mixed with definiteness of purpose, and burning desire, can be translated into your perfect marketing material. The true entrepreneur is a doer, not a dreamer. A business has to be involving, it has to be fun, and it has to exercise your creative instincts. People rarely buy what they need. They buy what they want. Giftwrap nothing is ever a challenge and no is never an answer. We feel that luck is preparation meeting opportunity for all your marketing and gifting needs. Request a quotation today from Giftwrap and we will give you a fast efficient response! Giftwrap offers a professional and reliable service for the procurement of all your business gifts and promotional products from artwork generation through to sourcing, branding and distribution. Promotional items and business gifts are the most cost effective way of promoting your company and, as a leading supplier, we have thousands of corporate gifts and marketing merchandise ideas available. Design your very own Entry/Voting Boxes and add your own personal touch.
Entry Box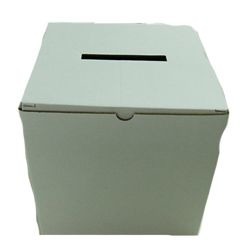 Minimum Quantity
Turnaround Time
Customisations
Colours Available
each*
A meaningful addition for any workplace, this entry box can be used for comments, complaints, or holding large amounts of other contents like votes or bills.