Products for Entry/Voting Boxes
We might feel the need to place an entry box if we are conducting an open vote. If you need it for your office or regular personal use, the entry box at Giftwrap is an interesting find. This is a meaningful addition to any workplace because the entry box can be used for a range of purposes including comments, complaints or even holding a large number of contents and votes alike. You can easily place the entry box and expect voters to use it in order to cast their votes. People conduct elections at their workplace and more and this entry box is a great find for those purposes. And it is also very affordable so you can get it in bulk.
Entry Box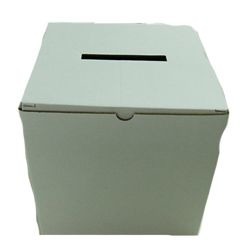 Minimum Quantity
Turnaround Time
Customisations
Colours Available
each*
A meaningful addition for any workplace, this entry box can be used for comments, complaints, or holding large amounts of other contents like votes or bills.