Products for Tear shaped key ring
Key rings never go out of fashion and for anyone who wants a nice key ring, Giftwrap offers the leatherette key ring. For starters, you can choose to get engraving, pad printing and full color printing done on the key ring and it will naturally stand out. This key ring, ideally, is made out of leather and comes packed in a gift box. The gift box is made from koskin and metal so it will naturally last longer. Everybody wants a nice key ring when it comes to their keys and if you have been looking for a nice key ring, the tear shaped key ring at Giftwrap is an ideal choice. The best thing is that there are so many customization options available in the key ring that there is so much you can do with the product itself. Looking for a keyring and donít know where to start? Get the tear shaped key ring and hold your keys right. The best thing is that the key ring is utterly affordable so you can even choose to get it in bulk, the choice is yours. If you havenít had any luck with key rings yet, this one will surely satisfy you.
Leatherette key ring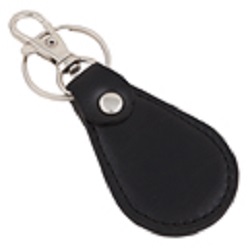 Minimum Quantity
Turnaround Time
Customisations
Colours Available
Engraving, pad print, full colour printing
n/a
each*
Giftwrap offer the leatherette key ring to its customers worldwide. Available in 6.5x4cm measurements, the key ring comes with a gift box and is made out of koskin and metal material. If you want to c....