Products for Tables
When you are setting up a brand new marketing campaign, it is critical that you know and understand your target customers and the message that you need to relay. However, some target niches are admittedly easier to connect with. Giftwrap has over 10000 ideas to choose from. Take your idea and convert into a custom gift branded to your company's perfect expectations. Request a quotation today from Giftwrap and we will give you a fast efficient response! We like thinking big. If you're going to be thinking anything, you might as well think big. To succeed in business, to reach the top, an individual must know all it is possible to know about that business. A lot of people have ideas, but there are few who decide to do something about them now. Try our Tables and brand them to your personal needs.
4 Person Picnic Table and Chairs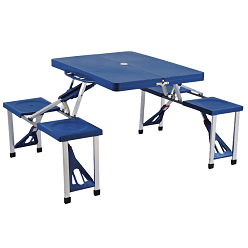 Minimum Quantity
Turnaround Time
Customisations
Colours Available
each*
4 Person Picnic Table and Chairs; PU Table; Umbrella Hole; 4 PU Stools; Plastic feet; Collapsible design; Steel legs
Table: 85.5cm x 65cm x 67cm, Chair: 30cm x 27cm x....