Products for Swiss Cards
We need swiss cards for a range of purposes and if you have been looking for one and havenít been able to find a decent one, the ones at Giftwrap are an interesting find. Giftwrap offers the swiss card classic, an 11 functions letter opener that comes with a screwdiver, tweezers, toothpick, ballpoint pens and others. The best part is that you can carry these around with you whenever you want. These are a full time accessory that contains all the essentials that you need in order to start cutting. Moreover, they are available in a range of colors so you can choose one according to your taste.
SwissCard Classic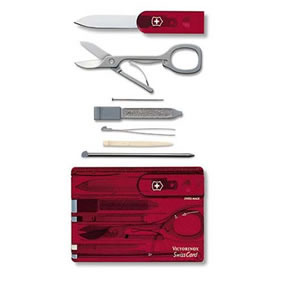 Minimum Quantity
Turnaround Time
Customisations
Colours Available
Pad Printing
Translucent red, translucent blue, translucent an....
each*
11 Functions: letter opener (blade); scissors; stainless steel pin; nail file with screwdriver; tweezers; toothpick; pressurized ballpoint pen; ruler (cm); ruler (inches); protractor