Products for Retractable Lanyards
Lanyards are worn for a range of purposes and if you are looking for a lanyard, the retractor reel lanyard at Giftwrap is a must try. The Retractor reel lanyard includes a reel with dome and a tag holder. You can use it as a one color screen printing on lanyards. Retractable lanyards come in handy when you are out on a party or at an event where you can wear these around your collars. Giftwrap knows the importance of these lanyards and therefore, offers them at affordable rates. In addition, these lanyards are available in a range of colors so you can easily get one according to your taste.
Retractor reel lanyard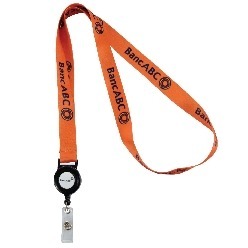 Minimum Quantity
Turnaround Time
Customisations
Colours Available
Screen printing
Red, pink, lime green, green, cyan, orange, blue,....
each*
Includes retractor reel with dome; name tag holder and one colour screen printing on lanyard; petersham and plastic