Products for Peakless Caps
Headwear is becoming a popular trend for both males and females, especially in winter season. You can match your headwear with your outfit to have a formal or informal look. Gift-wrap offers you a product peak fewer caps. These caps come in different sizes. You can have the one you like. It has two different colours; khaki and black. Buy it for yourself or a friend of yours. You can get it customised with any embroidery design you want. Headwear is a popular thing which stays in a fashion of all seasons. Giftwrap offers you a variety of peak less caps. You can get them for yourself and you can also get it to gift to someone. Choices of every person vary, some people prefer wearing peak caps and some prefer it as peak less. We have a heavy brushed beanie with knitted turn up for you and it comes in two different colors that are khaki and black. It also comes with the customization of embroidery. You can get any pattern you want on your peak less hat.
Peakless Cap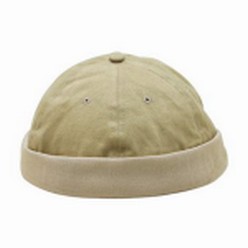 Minimum Quantity
Turnaround Time
Customisations
Colours Available
Embroidery
Khaki and Black
each*
Our peakless cap has a heavily brushed beanie that comes with knitted turn up, it comes basically in two colors black and khak,i it consists of beautifully customized embroidery that is designed with ....