Products for Pate Knives
Cutlery has been around for decades and still continues throughout the world in production. We have a wide range of cutlery available on our website from knives, forks, spoons, teaspoons, carving sets and cutlery gift sets. Thoughts are things! And powerful things at that, when mixed with definiteness of purpose, and burning desire, can be translated into your perfect marketing material. The true entrepreneur is a doer, not a dreamer. A business has to be involving, it has to be fun, and it has to exercise your creative instincts. People rarely buy what they need. They buy what they want. Giftwrap nothing is ever a challenge and no is never an answer. We feel that luck is preparation meeting opportunity for all your marketing and gifting needs. Request a quotation today from Giftwrap and we will give you a fast efficient response! Browse our range and when you find your favourite set request a quotation so that Giftwrap can meet your required quote timeously.
Standard patè knife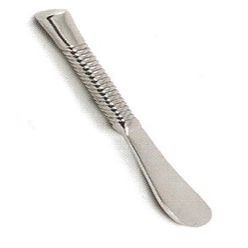 Minimum Quantity
Turnaround Time
Customisations
Colours Available
each*
This pewter pate knife will make a great addition to your dinner table for when friends are over. Custom design on handle for easy gripping, fine silver finish.