Products for Pate Knives
Pate knives are used for many different reasons and if you are someone who has been looking for one, the one at Giftwrap is your best bet. The knife is a pewter pate knife that will be a great addition to your cutlery and dinner table. The best thing about the knife is that it has a custom design and comes with an easy gripping facility for you to hold it right and well. Moreover, there is also a fine silver finish on the knife which makes you want to showcase it with other cutlery. Great for day to day use, these knives at Giftwrap are a must addition to your cutlery items.
Standard patè knife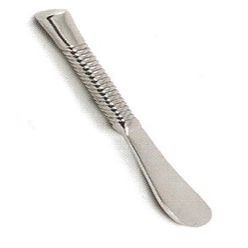 Minimum Quantity
Turnaround Time
Customisations
Colours Available
each*
This pewter pate knife will make a great addition to your dinner table for when friends are over. Custom design on handle for easy gripping, fine silver finish.