Products for Leather Laptop Bags
We need a laptop bag in order to carry our laptops with us at all times. If you have been looking for a nice laptop bag, the bermudo computer bag at Giftwrap is a must try and have. You can keep your computer safe from any damage with this bag. This is a genuine leather bag that is delivered in a gift box and has been designed specifically for you to hold your laptop right. The best thing is that it is affordable and available in a brown tone which makes it stand out naturally. Keep your laptops safe with this bag and you won't be disappointed with its legitimacy and authenticity.
Bermudo Computer Bag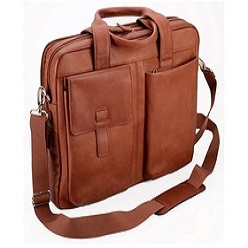 Minimum Quantity
Turnaround Time
Customisations
Colours Available
each*
Keep your computer safe from accidental damage with the Bermudo computer bag. Specially made with long lasting genuine leather. Delivered in a beautiful gift box.