Products for Leather Document Bags
Document bags are needed for a carrying your documents with you whenever you want. If you are looking for a nice document bag, the one at Giftwrap is one you cannot miss. Giftwrap offers the mark twain business bag, a simple yet classy bag that you can wear at all times. The bag is made out of sturdy black 1680D nylon and a genuine leather so it will last a long time. Moreover, there is also a padded shoulder strap that will make it easy for you to carry the bag around you at all times. In addition, there are different windows for you to stack your cards etc. in when you are using the back so you can use the business card window to put the cards in or use the pen loop to add pens in, the choice is yours. Ultimately, if you want a decent bag that can not only carry your documents and hold your pens as well, this is a great choice. First things first, the bag is made out of strong and solid leather so you can easily carry the bag around and hope that it will last a good time. The second is that it has so many different compartments that you will be able to add in whichever accessory, pen or any other item that it is that you want and it won't be a problem.
Mark Twain' Business Bag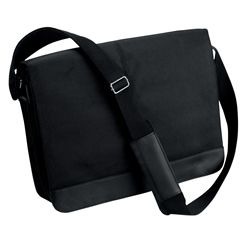 Minimum Quantity
Turnaround Time
Customisations
Colours Available
each*
Mark Twain executive Business Bag; made of sturdy black 1680D nylon and genuine leather; padded shoulder strap; multifunctional compartments include business card window and slots; pen loop; zippered ....