Products for Humidifiers
Looking for a nice humidifier that can work wonders for you during the winters? Look no further as Giftwrap has the right set to offer. Offering the wooden ball humidifier, this is a great humidifier for office and home use. The humidifier comes with a suitable size so you can easily place it in your home or office, the choice is yours. The humidifier is excellent for small spaces and you can expect it to work wonders in small spaces. Generally, for those who want a compact humidifier under a reasonable budget, this is an excellent choice because it is made out of wood so it can withstand different temperatures and is light in general and with its affordability, you can expect to get it with ease.
Wooden Ball Humidifier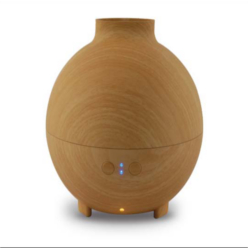 Minimum Quantity
Turnaround Time
Customisations
Colours Available
each*
Wooden ball humidifier is constructed with wood, looks like a coconut and it has a tripod stand underneath it. The humidifier has an opening at the top with a colored switch around it. It has a symmet....
600ml/35mlper hour mist outset