Products for Hikers Backpacks
Bags are the ideal advertising tool for exhibitions, conferences & trade shows not only because they promote brand awareness but also because they are practical products for the user to store any reading material or freebies in. They are bound to collect on the day. In addition, branded bags representing your company, will continue to be used for other day to day tasks offering free marketing of your company well after any seminar. We like thinking big. If you're going to be thinking anything, you might as well think big. To succeed in business, to reach the top, an individual must know all it is possible to know about that business. A lot of people have ideas, but there are few who decide to do something about them now. Request a quotation today from Giftwrap and we will give you a fast efficient response! Request a quotation from Giftwrap today!
Hikers backpack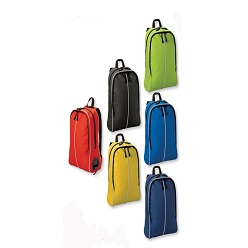 Minimum Quantity
Turnaround Time
Customisations
Colours Available
Screen print, heat press
Red, black, lime green, navy blue, royal blue, ye....
each*
Hikers backpack with shoulder straps and front zipper pocket