Products for Hikers Backpacks
Backpacks are an ideal tool for advertising and are found being used by the companies at trade shows, conferences, and exhibitions. They are very practical products and are always in demand by the customers. Offering backpacks mean that you are giving your customers a commodity which can be used widely and this boosts the reputation of your company. At Giftwrap, we offer the highest quality backpacks at affordable prices and in a variety of colors as well. These colors include red, black, navy blue, lime, green, royal blue, and yellow. It is hikerís backpack with shoulder straps and a front zipper pocket. The branded bags which carry the name of the company will be used for a variety of purposes and will be carried afterward as well. This means that the marketing of your company will become an ongoing process until the backpack lasts and it is our guarantee that it will last for a long period of time considering the quality of our hikerís backpacks. They will last for years which means that your one-time investment will keep reaping benefits for a number of years to come.
Hikers backpack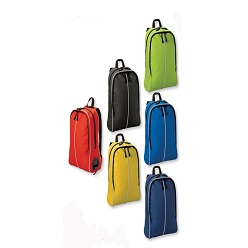 Minimum Quantity
Turnaround Time
Customisations
Colours Available
Screen print, heat press
Red, black, lime green, navy blue, royal blue, ye....
each*
Hikers backpack with shoulder straps and front zipper pocket