Products for Hand Cream and Wash
We all need a nice hand cream and wash because we cannot always use soap to achieve the desired results. If you are looking for a hand cream and wash, look no further as Giftwrap has the perfect item to offer in this category. Available at Giftwrap is a hand cream and hand wash, which is a 100 ml hand cream and wash available in sugared grape fruit and forest fern. If you are a fan of smells, this hand cream and wash is your ideal bet. Moreover, you can expect a lot of smoothness in your hands once you try the hand cream and wash at Giftwrap. For those who want a smooth outlook and donít know what item to get, this product is an ideal choice. Not only will it make your hands seem right, they will also ensure that they smell good as well. If you are a fan of bath and body products, this is an item that you just cannot miss out on because it is that good. Moreover, what sets apart the product is the fact that it is a unique one and there is nothing like that in the market.
Hand cream and hand wash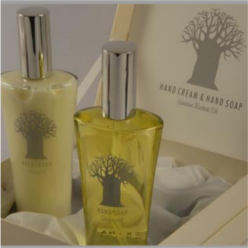 Minimum Quantity
Turnaround Time
Customisations
Colours Available
each*
100ml hand cream and handwash available in forest fern and sugared grapefruit.