Products for Hand Cream and Wash
All of our promotional products are sure to meet and exceed your high expectations with Giftwrap. When you want the best for your business, you need to choose us for all of your promotional product needs because we care. Our service is top rated, highly effiecient and comes with satisfaction guaranteed. Our service is personal. All types of printing can be done with Giftwrap to add a personal touch to your gift. We like thinking big. If you're going to be thinking anything, you might as well think big. To succeed in business, to reach the top, an individual must know all it is possible to know about that business. A lot of people have ideas, but there are few who decide to do something about them now. People rarely buy what they need. They buy what they want. Request a quotation today from Giftwrap and we will give you a fast efficient response! Try our Aftershave Colognes.
Hand cream and hand wash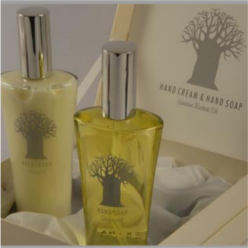 Minimum Quantity
Turnaround Time
Customisations
Colours Available
each*
100ml hand cream and handwash available in forest fern and sugared grapefruit.