Products for Glass Dispensers
Glass dispensers have sort of become a necessity for homes and offices alike. A glass dispenser is best kept safe and attracts the attention of many than most. If you are looking for a transparent glass dispenser, Giftwrap offers the very unique glass dispenser measuring 4 x 2 cm. Ideal in size, users can use this transparent glass dispenser in their homes and ensure that they get their glasses out safely and soundly. We all need a glass dispenser every now and then in order to make sure that we are placing our glasses right. When it comes to glass dispensers, there are a few things that you must ensure including the quality of the glass dispenser and its overall sturdiness. If you are looking for a good quality glass dispenser, a good one you can find is at Giftwrap. Offering a glass dispenser with a glass lid and a tap included, the glass dispenser is great for day to day use either for your home or for your office. If you are a fan of design and quality, check out the glass dispenser at Giftwrap and you will not be disappointed.
Glass Dispenser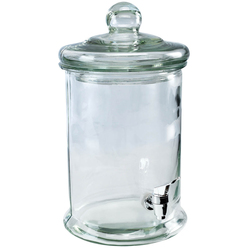 Minimum Quantity
Turnaround Time
Customisations
Colours Available
each*
For those who are looking for a nice glass dispenser, Giftwrap offers a brilliant choice. A glass dispenser that comes with a tap and a glass lid, the size of the dispenser is ideal. Moreover, the col....