Products for Food Tongs
Cutlery has been around for decades and still continues throughout the world in production. We have a wide range of cutlery available on our website from knives, forks, spoons, teaspoons, carving sets and cutlery gift sets. Browse our range and when you find your favourite set request a quotation so that Giftwrap can meet your required quote timeously. A business has to be involving, it has to be fun, and it has to exercise your creative instincts. People rarely buy what they need. They buy what they want. Giftwrap nothing is ever a challenge and no is never an answer. We feel that luck is preparation meeting opportunity for all your marketing and gifting needs. Request a quotation today from Giftwrap and we will give you a fast efficient response! Try our Food Tongs.
Capri food tongs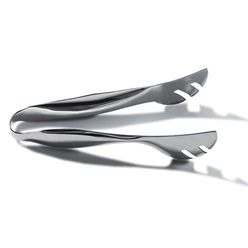 Minimum Quantity
Turnaround Time
Customisations
Colours Available
each*
These stainless steel Capri food tongs are great for handling all kinds of sweet and savoury items with convenience and ease. Silver finish with custom engraving available.