Products for Desk Blotters
Offices of executive people are usually sophisticatedly designed. Every minor detail is taken care of. Aside from elegant doors, walls, and windows, you will see excellent decoration on every corner of the room. Desk blotters can really enhance the look of an executive room and your personal room as well. You can get these artistically designed leather desk blotters from Giftwrap for your office or personal room. These desk blotters are carefully crafted with Nappa leather. It can perfectly fit in with your existing design. A messy or cluttered desk gives a very unpleasant vibe about the person working on it. Desk blotter helps in keeping your items organized and give a neat look to your desk. Leather formation gives it a classy look and elegant look. Desk Blotters are perfect to use for office with customer dealings. It leaves a good impression of organization on customerís mind. If you are looking for some executive gift for your colleague or CEO, you will definitely want to gift them something that will complement their office. Opt for Leather Desk Blotter from Giftwrap, as they are durable and exudes class.
Leather Desk Blotter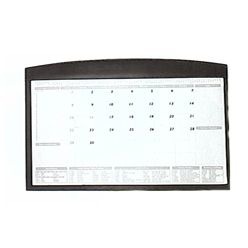 Minimum Quantity
Turnaround Time
Customisations
Colours Available
each*
This handy desk blotter will make a great addition to your office or home. Carefully crafted from Nappa leather with detailed stitching, it can be embossed with your custom design.