Sub Categories For Cufflinks
In the excellence-driven culture of any business, image plays a huge role in the promotion of your company. The range and options available from Giftwrap is extensive. We realise that different businesses have different needs. Different organisations have different budgets. Giftwrap pays personal attention to each profile individually to make sure you have exactly what you wanted in mind at your finger tips. Whatever the mind of man can conceive and believe, it can achieve. Thoughts are things! And powerful things at that, when mixed with definiteness of purpose, and burning desire, can be translated into your perfect marketing material. The true entrepreneur is a doer, not a dreamer. A business has to be involving, it has to be fun, and it has to exercise your creative instincts. People rarely buy what they need. They buy what they want. Giftwrap nothing is ever a challenge and no is never an answer. We feel that luck is preparation meeting opportunity for all your marketing and gifting needs. Request a quotation today from Giftwrap and we will give you a fast efficient response! Try our range of Cufflinks and you will not be disappointed.
Products for Cufflinks
Please browse through the Cufflinks below. If you are interested in a Cufflink click the 'Request Quotation' link next to each Cufflink product. A customer service consultant will contact you with a quote. Price estimate excludes branding, VAT and volume discounts apply.
Twirled Cufflinks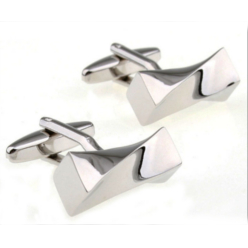 Minimum Quantity
Turnaround Time
Customisations
Colours Available
each*
These stylish twirled cufflinks are unlike any other, and make a great present for professionals and executives. Mirror polished for a bright and attractive finish.