Products for Christmas Headbands
Christmas is all about getting ready and enjoying the moments. How can you look good without a head band? Give a complete look to your outfit with the head band offered by Gift-wrap. It is designed especially for Christmas with the attachment of little Santa on it. It is available in red colour. So, buy this head band for you and your friend. Christmas is just around the corner and if you want some Christmas accessories, try the ones at Giftwrap. One thing you cannot survive Christmas without is a decent headband. You need a good headband to place it on your head and then go around places because it shows you the whole Christmas idea in the best way. You can find the santa alice band at Giftwrap if you have been looking for a decent headband. The Alice band is a band with Santa's attached. It is cool, it is unique and you can easily place it on your head to show how much you are enjoying Christmas. Laden in red, we love this Christmas headband because it is so cute.
Santa Alice Band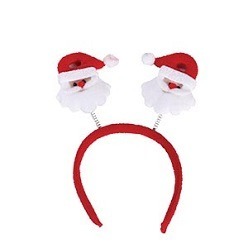 Minimum Quantity
Turnaround Time
Customisations
Colours Available
each*
Alice band with a Christmas design with Santa's attached.