Products for Bracelets
Giftwrap always stands by the saying that you only have one chance to make a good first impression. Let us help you make an unforgettable impression to your potential customers. In the current climate, competition in the business world is fierce so the little things that separate you from the crowd have never been so important. Choose from our selection of bracelets and engrave your bracelet with a personal logo or message. Thereís no shortage of remarkable ideas, whatís missing is the will to execute them. Change is not a threat, itís an opportunity. Survival is not the goal, transformative success is. Leadership is the art of getting someone else to do something you want done properly because they want to do it. A business has to be involving, it has to be fun, and it has to exercise your creative instincts. People rarely buy what they need. They buy what they want. Giftwrap nothing is ever a challenge and no is never an answer. We feel that luck is preparation meeting opportunity for all your marketing and gifting needs. Request a quotation today from Giftwrap and we will give you a fast efficient response!
Logo Bracelet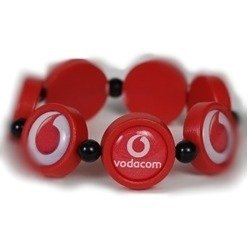 Minimum Quantity
Turnaround Time
Customisations
Colours Available
each*
Show off your style with a customizable logo bracelet. Choose a shape you like, add a logo or other printing, and select from a range of colours for a truly unique product.