Products for Biscuits
Please browse through the Biscuits below. If you are interested in a Biscuit click the 'Request Quotation' link next to each Biscuit product. A customer service consultant will contact you with a quote. Price estimate excludes branding, VAT and volume discounts apply.
Corporate Biscuit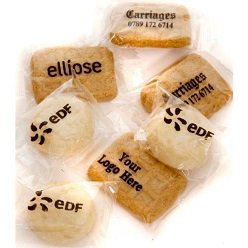 Minimum Quantity
Turnaround Time
Customisations
Colours Available
1 – full colour sticker on wrapper, 1 colour print on wrapper
n/a
each*
A sweet delight. These corporate biscuits are individually wrapped to keep the biscuit fresh and sweet. Offered in a mixture of assorted flavours ranging from soetkoekies, short bread, chocolate chip ....
Promotional Biscuit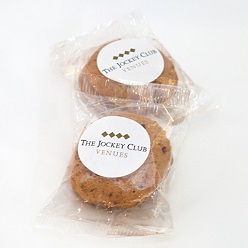 Minimum Quantity
Turnaround Time
Customisations
Colours Available
1 – full colour sticker on wrapper, 1 colour print on wrapper
n/a
each*
Assorted flavours of biscuits individually wrapped. Flavours: Soetkoekie; short bread; chocolate chip; Sprinkles;